WHAT TO DO AFTER FAILING POST UTME
Immediately after Jamb, we wrote a post on WHAT TO DO AFTER FAILING JAMB, and now that Post Utme Results are out, we are here to tell you WHAT TO DO AFTER FAILING POST UTME.
Those that failed the last written Jamb and followed our instructions are already on their path to gaining DIRECT ENTRY ADMISSION INTO 200LEVEL. This same thing we asked those students to do is exactly what to do after failing Post Utme. (call us on 09067866762)  
What to do After Failing Post Utme To Still Gain Admission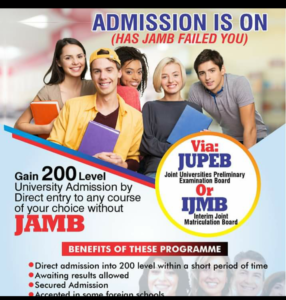 What to do after failing Post Utme is not to sit at home for another year. Also, waiting another year to obtain another Jamb form isn't what to do after failing Post Utme.
Exactly what to do after failing Post Utme is to register for either JUPEB or IJMB, the two programmes that can help you gain admission without the need to write JAMB.
Although many students are already calling us to know what to do after failing Post Utme. And we have been telling them about JUPEB and IJMB, which we are here to tell you, too.
We have noticed that many students don't know what to do after failing Post Utme. So they sit at home playing away another year only to write Jamb the following year. And if unlucky, they fail again.
The University of Ilorin, Federal University of Technology Akure and Owerri, University of Lagos, Obafemi Awolowo University, University of Benin, University of Port Harcourt, Nnamdi Azikiwe University, Ahmadu Bello University, Kogi State University, Olabisi Onabanjo University, Institute of Management and Technology and many other universities have released their POST UTME RESULTS.
And having checked their results, many students know their fate by now. Many of these students can't be blamed. There are too many candidates fighting for admission and each University can only admit a very small number of then.
10,000 candidates can only be admitted out of over 50,000 Candidates that wrote Unilorin Post Utme
For example, almost 50,000 candidates sat for Unilorin Post Utme and the school can only admit 10,000 only. Also, over 30,000 candidates sat for Post Utme in Unilag but only 17,000 of them were successful and Unilag can't admit them.
And this is the case with other Universities. So, the question is what can candidates who didn't pass their Post Utme do? What to do after failing Post Utme is simply to register for either JUPEB or IJMB. We will talk about each of these two programmes shortly.
But students must know that apart from JAMB, there are other programmes they can use in gaining admission into the university of their choice. With JUPEB and IJMB, students can gain admission into any University which includes:
The University of Ilorin
Kogi State University
The University of Lagos
Federal University of Technology Akure
The University Benin
Obafemi Awolowo University
Ahmadu Bello University among others.
IJMB PROGRAMME IS WHAT TO DO AFTER FAILING POST UTME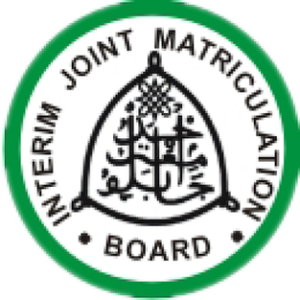 WHAT IS IJMB?
We have explained what IJMB Programme is in virtually all our previous posts. But for the sake of those who will not be opportune to access our previous posts, we shall quickly repeat what IJMB Programme entail here.
IJMB Programme is an Advanced Level Educational programme which is intended for students aspiring to secure admission into the any of the Nigerian universities through Direct Entry (DE) and without the need to write UTME (JAMB).
IJMB programme is open to all interested students who are seeking admission into the university. And this is especially those who want to know what to do after failing Post Utme.
Candidates must know that IJMB Programme will enable them secure admission without needing to write UTME.
All they need to do is register for the programme which lasts for 9months. During these 9months, which is divided into two semesters, registered IJMB candidates are put through intensive teaching at any of our well equipped IJMB study centres across the country.
COURSES AVAILABLE IN IJMB PROGRAMME:
Those who want to know what to do after failing Post Utme usually ask questions concerning the kinds of courses they can do with Ijmb.
Interested IJMB candidates must know that they can apply for all courses with IJMB, be it Medicine, Law, Engineering among others.
DEADLINE FOR 2019/2020 IJMB REGISTRATION/ IJMB REGISTRATION DEADLINE
As we've said, what to do after failing Post Utme is to register for IJMB. So, candidates should know that there is no official deadline date for IJMB Form for 2019/2020 registration procedures.
Every interested candidate can still purchase the IJMB form and complete their IJMB registration. A lot of people have been calling us because they heard that IJMB form for 2019 session is no more on sale, but that's not true. Students can still register, what we just advise is that interested students must register as soon as possible. What to do after failing Post Utme isn't to feel bad, it's to register for IJMB now.
HOW IJMB WORKS
How does Ijmb work? This is not hard.
Prospective IJMB candidates are expected to select Amy 3 A'Level IJMB subject combinations identified with their preferred course of study in the university, be it science, arts or social science.
Many who want to know know what to do after failing Post Utme are already calling us to ask whether they can register for IJMB and prepare for the IJMB exam on their own. What we usually tell them that it is not impossible. But they still have to pay all the fees that other registered candidates pay. For such people, we must tell you that it is quite risky to want to prepare for IJMB exam on your own.
All registered IJMB candidates need the experience of lecturers who are very familiar with the IJMB exams and that's why you must not sit down at home while preparing for the IJMB exam.
How to Apply for IJMB Programme
You want to know what to do after failing Post Utme, apply for IJMB today and still have a chance to gain admission into the university.
Applying for IJMB Programme is not hard in anyway. To apply for IJMB Programme for the current session, candidates must obtain the IJMB form for 2019/2020. There are two major processes to obtain IJMB form with us at directentryadmission.com
IJMB Form for 2019/2020 Online Registration
IJMB ONLINE REGISTRATION
Prospective candidates that would like to obtain Ijmb form for the 2019/2020 session through our Ijmb online registration portal should visit this link.
Prospective candidates are to fill their details into the provided spaces accordingly. Candidates can also print out the form from our website, fill their information in accordingly and scan it back to us through our email address [email protected].
When scanning the form back to us, candidates are to scan along proof of their payment. And candidates should know that registration fee is #5,000 only.
IJMB REGISTRATION CENTRES
IJMB REGISTRATION CENTRES IN NIGERIA
We have IJMB registration Centres around the country for candidates who would like to obtain their IJMB Form for 2019/ 2020 academic session.
What to do after failing Post Utme is to visit any of our IJMB Registration Centres and register for 2019/2020 Ijmb programme.
We have IJMB registration centres in:
Ibadan
Lagos
Port Harcourt
Ilorin
Enugu
Uyo
Kano
Benue
Abuja and many other states.
To purchase IJMB form, it is just #5,000. And for candidates who prefer to register online, our Bank Account Details are on our Registration Portal.
IJMB SCHOOL FEES FOR 2019/2020 AND PAYMENT PROCEDURES
IJMB FEES
The IJMB school fees for 2019/2020 is between #150, 000 – #180,000 in all our IJMB study centres. Candidates must know that the state that their preferred IJMB study centre is located will determine how much their IJMB fee will be. And IJMB school fees, either #150,000 or #180,000, consists of the acceptance fee, tuition fee and accommodation fee.
IJMB SCHOOL FEES PAYMENT PROCEDURES:
After a candidate has been confirmed for a successful IJMB registration, they are to resume as soon as possible. For candidates who after registration will still need time to put things in place before their resumption, they must go ahead to pay their acceptance fee which is #40,000. All other fees shall be made upon resumption.
And in order to lighten the burden of our students and parents, we allow for payment on instalment. This means that our students can pay in bits but not more than three times.
IJMB REGISTRATION AND STUDY CENTRES:
We have good IJMB registration and study centres in many states in Nigeria. Such as:
IJMB Centre in Enugu
IJMB Centre in Lagos
Ibadan IJMB Centre
IJMB Centre in Uyo
IJMB Centre in Kano
Nasarawa IJMB Centre
IJMB Centre in Ilroin
IJMB Centre in Port Harcourt and other states.
Interested IJMB candidates must know that they can trust in the efficiency of our IJMB lecturers as well as the good condition of our campuses and hostels. Also, our laboratories are well equipped for science students.
IMPORTANCE OF IJMB PROGRAMME
What is the importance of IJMB Programme
The very importance of the IJMB Programme is that it helps Nigerian students who are seeking for university admission secure admissions without writing the UTME (JAMB). IJMB is a sure way for direct entry programme.
Now, for those who will prefer to register for JUPEB instead of IJMB, here are very important details about the JUPEB Programme.
JUPEB PROGRAMME IS WHAT TO DO AFTER FAILING POST UTME 
The JUPEB Programme  is a major A/level Admission Programme  that enables applicants gain admission into 200level without JAMB. For more details about JUPEB programme read the article below or call us on 09067866762 or 08079859795.
HOW TO GAIN ADMISSION WITHOUT JAMB USING JUPEB PROGRAMME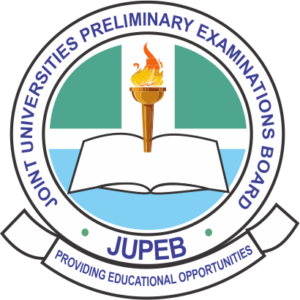 It is essential that you know what JUPEB is all about before you decide to do it or not. And the acronyms JUPEB simply means Joint Universities Preliminary Examinations Board. It is, like IJMB, an Advanced Level Programme recognised and approved by JAMB and NUC. And they are mainly for direct entry admission.
JUPEB Programme  has been in existence since 2013. But, by a consortium of 10 partnering universities led by the University of Lagos, was formally established in April 214. And ever since a lot of students have successfully gained direct entry admission into various universities using JUPEB.
Read also, how to apply for JUPEB 
WHO IS IN CHARGE OF JUPEB Programme 
The University of Lagos, the leading partner, moderates the JUPEB Programme, and students can find out about this by visiting the school's website. The University of Lagos being the moderator does not mean students can't go elsewhere to do Jupeb.
In fact there are approved coordinating bodies in various universities and Private Centres nationwide. This is to make the programme available for all students seeking admission all over the country. It is reported that what inspired the creation of JUPEB is to provide alternative opportunity for admission seeking students. And nothing is truer than that!
HOW DOES JUPEB PROGRAMME WORK
Once a candidate begins to consider applying for JUPEB, one of the first questions that would beg for urgent answer is how JUPEB works. It is not hard. Like IJMB, JUPEB requires you to select any THREE (3) Advanced Level Subject Combination that go with the provisions of your preferred course of study.
This subject combination is of course with English Language, which, being General Studies, is for all candidates, be it Art, Science or Social Science major. All these are specified while candidates fill their JUPEB Forms.
After this, candidates would then be posted to their JUPEB Study Centre, where they are lectured for the duration of the programme.
At the end of the JUPEB programme, students will sit for the JUPEB exams. It is after the release of JUPEB results that successful candidates will begin the processes involved in crossing to 200level in their preferred university.
HOW LONG IS JUPEB PROGRAMME
JUPEB Programme normally runs for 9-10 months; the equivalent of a university session. But the duration a candidate spends before the end of a JUPEB academic year depends on when the candidate resumes. Students don't and can't resume at the same time. So, we have had students who resume 6months to the end of the programme and still pass. You just have to be serious.
HOW MUCH IS JUPEB FORM AND FEES
The JUPEB form is sold at different prices ranging from #10,000 to #15,000. How much you pay for your JUPEB form depends on where you obtain the form. But with us here at directentryadmission.com, JUPEB form is just #10,000. You can obtain your JUPEB Form Here or by contacting us.
Then, how much is JUPEB Programme
One major factor that determines how much you pay for your JUPEB programme is location. The state your JUPEB Study centre is located affects how much you pay for your JUPEB fees. But, no matter the state, our JUPEB fees are often between #240,000 and #350,000. Nothing beyond that. This fees cover acceptance fee, accommodation fee, and tuition fees.
CAN ONE PAY JUPEB FEES IN INSTALMENT
There is a frequently asked question concerning the payment of JUPEB fees. Students often ask if they can pay their JUPEB fees in instalment, that is, bit by bits. And we usually tell them it is very possible. Considering the economic atmosphere of the country, we allow candidates to have a payment plans that allow them pay in bits.
LIST OF UNIVERSITIES THAT ACCEPT JUPEB PROGRAMME 
One of the advantages that JUPEB programme  has over IJMB Programme is that, there are more universities that accept if for direct entry admission. And before applying for JUPEB programme,  you should be certain your choice of institution is among the Universities that accept JUPEB for admission.
The following are the Universities accepting JUPEB Programme for 200level admission:
Obafemi Awolowo University, Ile Ife
University of Lagos, Akoka
University of Ilorin, Ilorin
Federal University of Agriculture, Abeokuta
Federal University of Technology, Owerri
University of Port Harcourt, Port Harcourt
Federal University of Technology, Akure
Lead University, Ibadan
Bowen University, Iwo
Caleb Universities, Imota
Afe Babalola University, Ado Ekiti
University of Uyo, Uyo
Redeemers University, Ede
University of Nigeria, Nsukka
University of Benin, Benin City
Federal University of Petroleum, Effurun
Crescent University, Abeokuta
Niger Delta University, Wilberforce Island, Bayelsa State
Osun State University, Oshogbo
Bells University of Technology, Ota, Ogun State.
There are more universities that accept JUPEB but are not included in the list. All Private Universities in Nigeria accept JUPEB for 200level direct entry admission.
WHO IS QUALIFIED AND ELIGIBLE FOR JUPEB
Those who want to know what to do after failing Post Utme, among others, are eligible for JUPEB.
We receive that question very frequently. And people ask always to know if they are eligible and qualified for JUPEB.
The only thing you need to apply for JUPEB is your O'level result. Though awaiting result also is permitted but result must be available before the end of the session.
Remember we said earlier that JUPEB helps you secure direct entry admission without Jamb. Therefore, you don't need to write any exam before you apply for JUPEB.
JUPEB does not even have any entrance exam. Interested candidates should be careful when they are told to pay for JUPEB entrance exam. There is no such thing. Once you obtain your JUPEB form and complete the registration processes, the next thing is resumption. You resume and begin to receive lectures.
WHAT ARE THE JUPEB COURSES ONE CAN APPLY FOR
This question simply begs to know the types of courses available in JUPEB. And also what courses can JUPEB candidates study in the university. We are glad to inform you that every course is available for JUPEB candidates. As they are to JAMB candidates.
As long as the course is available in your preferred university, then you can always apply for them. We repeat with unflinching confidence that JUPEB covers every course and department be it in ARTS, SCIENCE or SOCIAL SCIENCE.
WHEN IS THE BEST TIME TO APPLY FOR JUPEB
Well, the best time to apply for JUPEB is immediately JUPEB form is out for purchase. And this is always between JULY and AUGUST. This is immediately after the JUPEB exam that is usually scheduled for JUNE. And JUPEB lectures often begin immediately after resumption.