UNIBEN JUPEB REGISTRATION DEADLINE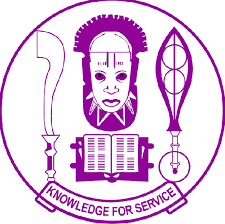 It has come to our notice that Uniben Jupeb Form 2019/2020 closing date has been postponed. This means that Uniben Jupeb Registration deadline which was before 1st September, 2019 as now been shifted to 17th September, 2019.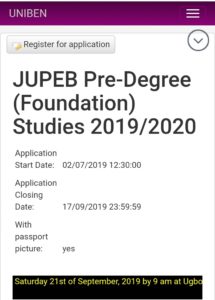 A lot of candidates have been calling us to ask when the 2019/2020 Uniben Jupeb Registration deadline is. And according to the changes effected on Uniben Jupeb Portal 1(uniben.waeup.org), Uniben Form 2019/2020 will still be on sale till the 17th of September, 2019. For easy access to this information on Uniben Jupeb Portal, copy this link to your browser: https://uniben.waeup.org/applicants/pre2019.
Uniben Jupeb Application Form has been on sale since 2nd July, 2019. And then, Uniben Jupeb said that registration deadline would be on the 2nd of September, 2019 but God knows why, Uniben Jupeb Registration Deadline is now on the 17th of September, 2019.
This should be a good news to those who still want to purchase Uniben Jupeb Form 2019/2020.
But if by the time you are reading this, Uniben Jupeb registration has finally ended, call us on 09067866762. We will tell you what to do. There is still a way to register you for Jupeb and help you gain admission into Uniben.
HOW TO APPLY FOR UNIBEN JUPEB 2019/2020
If you are seeing this before Uniben Jupeb Registration Deadline for Uniben Jupeb Form of 2019/2020 session, which is the 17th September, 2019, then you will need this.
You must make sure that you follow all the instructions carefully. We have copied this method of application for Uniben Jupeb Form 2019 directly from their website. And don't forget that Uniben Jupeb registration deadline is on the 17th September, 2019.
The Procedure for application is as follows:
Visit www.uniben.edu OR uniben.waeup.org
On the UNIBEN.EDU SITE, Select Student Portal; Then The Waeup Portal.
Candidates are advised to have a valid e-mail account before starting the application process (not the cyber-cafe's mail).
Click on JUPEB (Pre-Degree) Foundation Studies 2019/2020
After this Click on Register for Application at the top left of the displayed page to proceed.
Provide all necessary information. (Note that * means compulsory fields.
An immediate mail will be sent to the provided e-mail address.)
Open your mail to get your System Generated ID and Password that you will use to login.
On uniben.waeup.org click on 'Login' (top right of the front page).
Enter your User Name and the Password from the mail to Login.
To start the application process, please click on 'Edit Application Record' and provide all required information and upload your passport photograph.
Upload a clear 1" by 1" COLOURED PASSPORT PHOTOGRAPH with RED background in JPEG format only.
Note that the photograph uploaded will be the only valid ID for all admitted candidates throughout their stay in the University of Benin.
FAILURE TO UPLOAD THE SPECIFIED PASSPORT WILL LEAD TO DISQUALIFICATION AND FAILURE/FORFEITURE OF ADMISSION.
To pay for the Application, click on "Add online payment ticket" at the bottom of the page, then click on "College Pay" on the top of left corner of the page, follow the instruction to pay the application fee with an ATM-Enabled Verve or Master Card from any commercial Bank.
Preview and confirm your information before submitting your application on-line.
You cannot edit your application after submission.
Print out the application slip.
We took our time to copy the guidelines of applying for Uniben Jupeb Form 2019/2020 so that when you get to the cafe, you can have something to guide you through. All you will do is to open a tab of our website on your phone. And then open Uniben Jupeb Portal on the system as you register.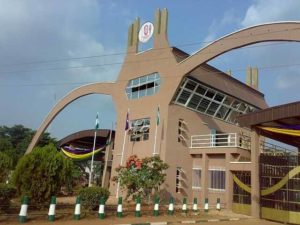 WHEN IS UNIBEN JUPEB ENTRANCE EXAMINATION
This is another question that we have been dealing with.  Students keep calling to find out when Uniben Jupeb Entrance exam 2019 will be.
Since Uniben Jupeb Registration Deadline was postponed, it is normal that Uniben entrance Examination too would be.
Uniben Jupeb Entrance Exam for the 2019/2020 session has been postponed to September 21st, 2019. According to Uniben Jupeb Portal, admission into various programmes shall be through entrance examination. And this will be conducted on 21st of September, 2019 by 9am.
The venue for the exam is the Ugbowo campus of the University.
For those who have already registered, all you need do is to revisit your registration to check your schedule.
WHAT CAN YOU DO IF YOU DID NOT BUY YOUR FORM TILL UNIBEN JUPEB REGISTRATION DEADLINE ELASPED
Now, we understand that, for one reason or another, you may not have registered till Uniben Jupeb registration deadline passed. And you don't know if there is anything you can do to still join the current Jupeb session. Yes, there is something you can still do.
We are a Private Jupeb Centre duly accredited and registered. If you register your Jupeb with us, you have the same merit as others who register directly with Uniben. And at the end of the programme, you stand the same chance with any Jupeb candidate to gain admission into Uniben or any Jupeb Affiliated University.
HOW TO REGISTER JUPEB WITH US
To register for JUPEB, visit our Jupeb Jupeb Registration Portal through this link.
Once on our Jupeb Registration Portal, you will copy the school's account details.
Then go to the bank to pay your Jupeb Form fee which is #10,000 only. (Make sure to collect teller).
After making the payment, go to a cyber cafe with a passport photograph of yourself or of the candidate. Also, take along your O'level result if available. Note that you can use awaiting result to register. 
Revisit the Registration Portal and carefully fill the form in BLOCK LETTERS. (we can send you the link if you call us asking for it. This is for easy access to the Registration Portal.)
You will see where to scan your passport and teller, scan them accordingly.
Down after the spaces provided for your details, you will see a list of States where we have accredited Jupeb Centres available, click on any state you want.
Then submit. And call us on 09067866762 immediately.
Within 24hours, you will receive a feedback in the email address you have submitted in the form.