UNILAG JUPEB FORM AND REGISTRATION PROCEDURES
If you want to buy Unilag Jupeb Form and complete their Registration Procedures you will have to visit Unilag Jupeb Official Portal via foundation.unilag.edu.ng
The portal looks like the picture below: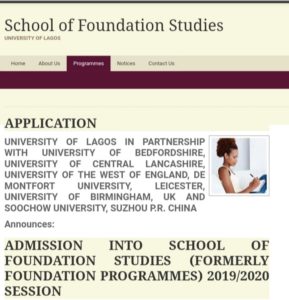 NOTE: Unilag Jupeb Form is N25,000 and the only place to purchase it is on Unilag Jupeb website.
UNILAG JUPEB FORM AND REGISTRATION PROCEDURES 2019/2020 
Below Is The Procedure For Completing School of Foundation Studies e-Application Form As Posted On Unilag Jupeb Official Website. 
Visit the University of Lagos website (www.unilag.edu.ng)
On the prospective students menu, click on the School of Foundation Studies.
Go through the information on subject combinations relevant to your proposed choice of course of study for direct Entry admission.
Complete the Pre-Application Form to obtain a payment reference number known as PRN, using the applicant's names.
JUPEB REGISTRATION PROCEDURES WITH UNILAG
According to what we found from Unilag Jupeb official website, which you can go and confirm yourself, Cost of Application Form (Including on-line practice tests but excluding Bank Charges): N25,000.00 (non-refundable).
You will definitely come across all this information when you visit the website, for those who are willing to register directly with Unilag Jupeb.
But if you want to run your Jupeb Programme in a very good accredited Jupeb study centre in Lagos, then contact us.
Now, the next thing to do once you have the N25,000 for the UNILAG JUPEB APPLICATION FORM is to make payment at any Commercial bank in Nigeria with the payment reference number (PRN).
Once you have made the payment, return to the University website, click on School of Foundation Studies and click on continue Application. Log in with PRN (Payment Reference Number) and applicant's surname in lowercase as password.
Then, you will have to complete the Application Form, print two copies for yourself.
Once you're done with all this, you will have to revisit the website regularly in order to get your Examination pass, which will be your pass on the day of your Entrance Examination. Don't forget we told you that UNILAG JUPEB PROGRAMME has an Entrance Examination.
Usually, the pass is out a week before the examination date. Once you see it, print a copy to take to the examination venue.
ABOUT UNILAG JUPEB ENTRANCE EXAMINATION
Don't be scared, Unilag Jupeb Entrance Examination is not something that is too hard. Every year, candidates sit for it and pass it, though not all of them.
The mode of Unilag Jupeb Entrance Examination is Computer-Based Testing. And there is a schedule for the examination, so you will have to check the Unilag Website a week before examination to verify your examination date.
All questions are Multiple Choice.
Examination subjects, according from what are stipulated in the Unilag Jupeb Official Website, are Mathematics, English Language (20 questions each) and 3 other relevant subjects (according to candidates choice of subject combination (15 questions each), making a total of 85 questions to be answered in (1) hour.
All candidates must be at the designated venues (according to the schedule on the Examination Pass) two hours before the scheduled Examination time.
UNILAG JUPEB FORM AND REGISTRAION 2019/2020 CLOSING DATE
Like every Jupeb University, Unilag Jupeb Form and Registration has a closing date every year, which includes the year 2019/2020 session.
As of the time we wrote this post, Unilag Jupeb Form and Registration 2019/2020 session has closed. Which means that you can't run your JupebProgramme directly with the University of Lagos afterwards. What you can do then is to register with any good Jupeb Centre in Lagos that you trust and run your programme with them. It is the same JupebProgramme. Once you are done and have your Jupeb result, you will then obtain Direct Entry Form from Jamb. With that, you can cross to Unilag or any other Jupeb Affiliated Universities of your choice.
JUPEB CENTRES IN LAGOS
There are many Jupeb Centres in Lagos. There are Lagos JUPEB Centres at Ajah, Ikeja, Ikorodu, Palm Grove etc. But it will help you to trust us to direct you to the best Jupeb Centres in Lagos. Our Jupeb Centre in Lagos is very affordable. Reading about the Jupeb Centres in Lagos can help you make the best decision in knowing who to register with.
HOW TO REGISTER FOR JUPEB WITH US
To register with us, click on the Jupeb Registration Form.  We sale JUPEB Form for just N10, 000.
Go to the bank to pay the sum of N10,000 into the our Bank Account Details on our JUPEB REGISTRATION PORTAL.
Then, go to any cyber cafe closest to you with a passport size photograph of yourself or the candidate. Also go along with your O'level Results and the Teller from the Bank.
Fill all details in Capital Letters.
Fill your details very carefully.
Then scan your passport and the teller which is a proof of your payment into the spaces that have been provided for that same purposes.
Once you're done with these procedures, submit your form. Then call us on 09067866762 immediately.